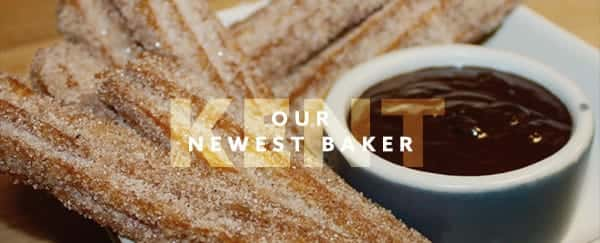 Meet our newest Baker, Damon Kent
Meet our newest Baker, Damon Kent
An inside look into the Union Public House, Reforma Modern Mexican. Mezcal + Tequila, and Proof Artisanal Pizza & Pasta Bakehouse
Pretzels, Pastas, Churros, and all of our other delicious carby favorites: who makes these ever so decadent sweet and savory specialites you might ask?
Set at the tailend of the Reforma Modern Mexican. Mezcal + Tequila kitchen, three bakers, David, Damon, and Adrian are hard at work cooking up our exclusive breads, doughs, and delectable desserts. Beginning around 5am each day these guys have a long list of goodies to prepare. Five dozen burger buns, twenty dozen sliders, forty-eight ciabatta rolls, twenty-four focaccia loaves, two batches of pizza dough, cookies, brownies, cake, churros and more: just on the average friday that is. "We wouldn't wake up early everyday if we didn't find enjoyment from it,'' said Adrian, who mainly focuses on the dessert end. From the moment they walk in each morning, it's ovens on, list ready, and time to start baking.
Perhaps you're an avocado toast, french toast, or simply a lover of all things bread? If so, you can thank the newest member of the team, Damon Kent. Excited for the upcoming season, Damon specializes in sourdough and naturally levain bread. As a fourth generation baker, the skill runs in the Kent family. Damon has a true passion for the trade, "One day I just started baking bread," he said, and the rest is history.
He recently returned back to Tucson after owning his own bakery, "Wonderland Bakery" in Guaymas, Mexico. His business was a huge success, and partnered with many local grocery stores for five years. However, the dangers of the cartels in Sonora led Damon and his family back to his home state, where he had a connection to Union Public House, Reforma Modern Mexican. Mezcal & Tequila, and Proof Artisanal Pizza & Pasta..

Teamwork plays an important role in the kitchen, and for these three bakers it seems to be working remarkably well: "You can't do it if you don't love it," they told me, and they surely do. You can get a taste of Damon, Adrian, and Davids creations all day at any of the three restaurants. And be sure to keep an eye out for some upcoming Valentine's Day Dessert Specialties!