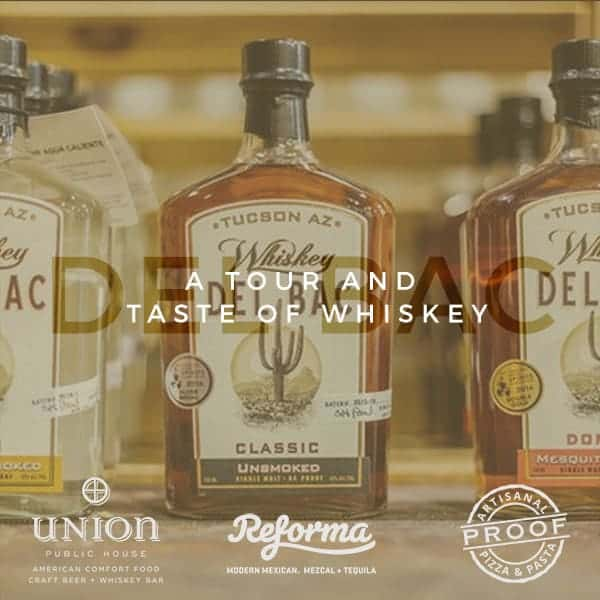 A Tour and Taste of Whiskey Del Bac
A Tour and Taste of Whiskey Del Bac
Emma Gray / February 26, 2020
On the rocks, neat, or the classic Old Fashioned. Whatever your Whiskey Wednesday favorite might be, Union Public House has you covered, pouring up some of the finest single malts and blends from Tucson distillery: Whiskey Del Bac. As semi-finalist for the 2020 James Beard Award of Outstanding Wine, Spirits or Beer Producer, Whiskey Del Bac provides a unique, mesquite smoked flavor to please every palate.
Recently, the Union Public House, Reforma Modern Mexican. Mezcal & Tequila, and Proof Artisanal Pizza and Pasta team was given an inside look into the process that goes into making the soulfully crafted spirits customers enjoy daily. Malted, smoked, mashed, distilled, then blended and aged in specialty barrels from Minnesota, a wait of one to two years completes the process, resulting in eighty proof and a smooth oaky finish. With three mainline products, the Classic, Dorado and Old Pueblo, and three to four specialties per year, Whiskey Del Bac is fully engaged in the Tucson bar and foodie scene. A mix of stone fruits and caramel for the Classic, campfire embers and chocolate for the Dorado, and ancho chili and white chocolate for Old Pueblo. Each of the single malts are exclusive to their desert dwelling.
With Arizona being the largest market, the local distillery also caters to twenty-two states, and is working its way to Hong Kong. Whiskey Del Bac is one of twenty in the world to malt in house, making the product quite exclusive and in demand. Not a single ounce of barley is wasted in the manufacture of this American Single Malt. Poured into a sleek modern design the bottles of Whiskey Del Bac are featured at Union Public House, sold locally, and tours are even available to the public: giving you all the reasons to get in your whiskey fix.


Drink your whiskey or eat it too on Union Public House's Del Bac mushroom melt burger, whiskey popcorn, or whiskey barbeque glazed pork belly . However you choose to have it, join us at Union Public House for Tucson's largest Whiskey selection, and a family of food and spirits enthusiasts.